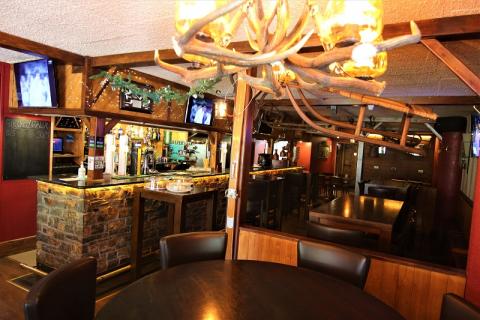 Understanding that the end goal is integration into a new country, a new culture, there are times when the constant buzz of a foreign language, or the difficulty in finding products similar to those that we may be accustomed to in day-to-day life. Take some time to relax and take a break from the confusion while still enjoying the new surroundings.
Here is a completely altruistic list of places where you may find yourself surrounded by like minded people, in a similar situation to yourself, where you can converse with expats and possibly learn of their integration process, and their opinion of why Andorra works for them.
The International Club of Andorra.
The International Club of Andorra is a great way of meeting like minded people, and source activities arranged by different sectors of the Expatriate Population in Andorra. From their headquarters in l'Aldosa, in la Massana, they have frequent get-togethers, Quiz Nights, Concerts etc. This is a very successful and informative institution that is run by a very dedicated group of volunteers. From the International Club of Andorra you can also get in direct contact with smaller interest groups like the 4wd Club, The Tennis Group, The Finance Group, The Patchwork Group, Hash House Harriers etc. something for everybody.
The International Club of Andorra is the first source of information for all newcomers in Andorra, and a great way of meeting people who have been through the relocation experience. 
Hunters.
Hunters is a Bar located in Arinsal, and is the quintessential English Pub/Restaurant located in Arinsal. Arinsal as a village is growing, but most restaurant and locations are seasonal, and open and close between seasons. Hunters is open all year round, has a great selection of Beers and Wine, along with a comprehensive menu of traditional Pub/Comfort Food. Hunters is a highly recommended first stop in Andorra, with the added benefit that their staff Mike, Michelle and Linda have extensive experience in Andorra, and Andorran Lifestyle.
Palarine Hotel (Bambu Restaurant)
Graham and Maria created Andorra's most authentic Chinese Restaurant experience in Andorra over 20 years ago, when they decided that Andorra was the right place to raise their family. Now a very recognised Expatriate meeting spot, especially Thursday and Saturday nights, when they often have live music. The Bambu Restaurant also offers a traditional Roast Lunch on Alternate Sundays throughout the peak touristic seasons. All conveninetly located within a family oriented hotel, located close to the ski fields and mountain bike paths. 
Can Pere
Can Pere (or Peter's Place) located in the very attractive centre of Anyos, with ample off street parking located close by. "Can Pere" has an excellent reputation both with locals and newcomers as a restaurant in Andorra serving quality international cuisine for over 25 years. A quaint location, and extensive wine list and great views makes Can Pere a lovely location for a very pleasant meal. The owner/manager Dave is normally more than happy to share a beer and a few anecdotes when service is finished.    
https://www.tripadvisor.co.uk/Restaurant_Review-g2385277-d1215873-Reviews-Restaurant_Can_Pere-Anyos_La_Massana_Parish.html
El Cap Bou
Generations of fantastic French Cuisine, and a very popular, and renowned restaurant for locals, looking for quality foods at reasonable prices. Cathy and Scottish Jimmy took on the management of the restaurant upon the retirement of Cathy's parents in the late 90's. This gave English speaking residents a staple "downtown" restaurant that offered an English-speaking service (something very rare for those times). Cathy is now head of the house, with her sons and nephew continuing the generational trend, offering sensational food ina location with great character and reasonable prices.
https://www.tripadvisor.com/Restaurant_Review-g190392-d2387593-Reviews-El_Cap_Bo-Andorra_la_Vella_Andorra_la_Vella_Parish.html
Fat Alberts
Fatty's as known to the locals has been an Apres Ski Bar and Restaurant in this ever-growing resort for over 25 years. Known as the "local" for the locals, Fat Albert comes to life int eh winter months, with the bar and restaurant on separate floors, separating those who are chasing a quiet meal, from those who are perhaps looking to enjoy themselves a little too much. Book in for the Tuesdays special Rib Day. Great fun, and reasonable food and drink.
https://www.tripadvisor.com/Restaurant_Review-g190404-d2224634-Reviews-Fat_Albert_s-Soldeu_Canillo_Parish.html
Cort de la Popaire
This lovely restaurant located in Soldeu in a Borda style (ancient mountain farmhouse) property, offers traditional "Brasa" style meats and salads. Extremely popular throughout winter, we recommend booking in advance. With all of the ambiance one would expect in a fine Resort Restaurant, crackling fireplace in the corner and beautiful rustic finishes, this is a restaurant to relax, enjoy and remember. A terrace for summer lunches is also a fantastic edition to make this a remarkable dining experience.
https://www.tripadvisor.com/Restaurant_Review-g190404-d1751412-Reviews-Cort_de_Popaire-Soldeu_Canillo_Parish.html
For traditional English Produce, try he following establishments;
St Moritz Supermarket; Located on the main street of Arinsal, directly adjacent to Hunters Sportsbar and Grill, they have an extensive array of English and British foods along with international favourites. 
Garalla Supermarket; Located directly underneath the Funicular in La Massana, Garalla have specialised in supplying some traditional British favourites for decades (they also specialise in fresh seasonal fruits).
Pyrenees; Known as the Harrod's of Andorra, the supermarket is located on the third floor, and offer all types of food, including some of the most exclusive brands in the world. Their international section is alway stocked with a bounty of Curry Pastes, Asian Food, Tex Mex, British Favourites as well as Latin American cuisine. 
The Andorran Hospitality Industry has been through many changes in recent years, and fortunately there has been a constant and notable improvement. As a country with a population of 78 000 people, which receives between 8 000 000 and 11 000 000 tourists annually, there is a very heavy dependence on the Hospitality Industry, and while there are still many opportunities to find a niche in restauration by offering different types of cuisines or dining experiences, you will discover a universe of dining and entertaining options in Andorra at various times of the year. It should be noted that the staff of INVICO S.L. have no association with the restaurants listed above, but offer the suggestions through personal experiences and thoe experiences of our clients. The list of properties will be added to, changed or edited over time as we discover new dining experiences that cater to expats, or through genuine critiques from our clients.